About Dr. Donna Corvette
Donna M. Corvette, M.D. was born in Johnson City, New York. She received her Bachelor's degree from the University of Maryland and graduated from Howard University College of Medicine in 1988. Dr. Corvette served with the U.S. Army on active duty from 1988-2000 and held the rank of Major.
Dr. Corvette spent three years training in internal medicine and became a board-certified internist in 1991. From 1991-1994, Dr. Corvette trained physician assistants in internal medicine and dermatology at Brooke Army Medical Center in San Antonio, Texas, where she also practiced internal medicine.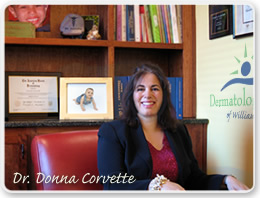 In 1994, she began a dermatology residency at Fitzsimmons Army Medical Center and graduated from the Army Health Professional Scholarship Program by serving as the Chief of Dermatology at Fort Eustis. She also completed her dermatology residency at Walter Reed Army Medical Center in 1997. During this time, she achieved board certification in dermatology and has practiced in Virginia for the past 10+ years.
She opened the Dermatology Center of Williamsburg in 2004 in Williamsburg, Virginia. Dr. Corvette was re-certified in dermatology in 2006.
Dr. Corvette is an avid teacher of dermatology to students, patients and staff. She has trained and worked with a myriad of lasers since 1997 and plans to add more lasers to her practice. Her mission is simple: Practice good medicine with a team of professionals and create a "knowledge is power" relationship with her patients.
Specialized Training/Areas of Interests:
Acne
Atopic Dermatitis
Chemical Peels (Superficial & Medium Depth)
Contact Allergies
Detection and removal of Skin Cancer (Basal cell cancer, squamous cell cancer, and melanoma)
Eczema
Laser Hair removal
Patch Testing
Rosacea
Psoriasis
Rashes
Sclerotherapy
Skin manifestations of internal disease


Certified by the American Board of Dermatology (FAAD)

Donna M. Corvette MD, FAAD
5335 Discovery Park Blvd, Suite A
Williamsburg, Virginia 23188
757.645.3787
Fax 757.645.3774
email