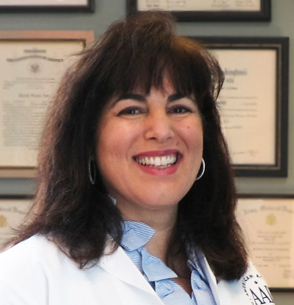 Donna M. Corvette, M.D. received her Bachelor's degree from the University of Maryland and graduated from Howard University College of Medicine in 1988. Dr. Corvette served with the U.S. Army on active duty from 1988-2000 and held the rank of Major.
Dr. Corvette spent three years training in internal medicine and became a board-certified internist in 1991. From 1991-1994, Dr. Corvette trained physician assistants in internal medicine and dermatology at Brooke Army Medical Center in San Antonio, Texas, where she also practiced internal medicine.
From 1994-1996, she started her dermatology residency at Fitzsimmons Army Medical Center.  She completed her final year of dermatology residency at Walter Reed Army Medical Center in 1997.  She became board certified in dermatology in 1997 and recertified in 2006.   She  has practiced  dermatology in Virginia since 1997 and served as the Chief of Dermatology at Fort Eustis. She founded the Dermatology Center of Williamsburg in 2004.
Dr. Corvette is an enthusiastic teacher of dermatology to patients, students, and staff.  Her mission is simple: Practice good medicine with a team of professionals and create a "knowledge is power" relationship with her patients.
Specialized Training and Areas of Interest:
Acne
Atopic dermatitis
Chemical peels (superficial & medium depth)
Contact allergies
Detection and removal of skin cancer (basal cell, squamous cell, and melanoma)
Eczema
Laser hair removal
Intense Pulsed Light (IPL)
Patch testing
Rosacea
Psoriasis
Rashes
Sclerotherapy
Skin manifestations of internal disease
---
Certified by the American Board of Dermatology
Fellow of The American Academy of Dermatology (FAAD)
Served as Vice-President Williamburg/James City County Medical Society, 2012
Current President of Williamsburg-James City County Medical Society, 2013
Member of Virginia Dermatological Society
Member of the American College of Lifestyle Medicine
Rathi Blankenship, Physician Assistant
Rathi is a Board Certified Physician Assistant through the National Commission on Certification of Physician Assistants.
Rathi received a Bachelor's degree in Human Nutrition, Food and Exercise from Virginia Tech in 2005.  She then went on and completed her Master Degree in Physician Assistant Studies at James Madison University in 2007.  She is joining the DCW family after an almost three-year stint in orthopedic surgery, to fulfill her passion for dermatology.  Given Rathi's extensive experience in the operating room, she has a special interest in performing biopsies and surgical excisions.  She is trained in diagnosing and managing all dermatological conditions and skin cancers.
Rathi credits her success to her strong passion and commitment to her patients.  She is a member of the American Academy of Physician Assistants, Society of Dermatology Physician Assistants and the Virginia Academy of Physician Assistants.
Tracey Ovitt, Master Aesthetician
Tracey is a licensed Master Aesthetician in the Commonwealth of Virginia and has been practicing in Williamsburg since 2003.
Tracey completed her training at the American Spirit Institute, with advance training in microdermabrasion and chemical peels.
Some of the services that she performs at DCW are: microdermabrasion, light chemical peels, waxing, laser hair reduction/removal, IPL, Jane Iredale® Mineral Make-up consultations, and SkinCeuticals® Skin Care consultations.
Tracey lives in Williamsburg with her husband Roger and their three children.