This article is featured in the May, 2015 edition of "Williamsburg's Next Door Neighbors" on page 51, available here as PDF.
by Greg Lilly, Editor
---
Dr. Donna Corvette practiced internal medicine before she decided to specialize in dermatology. "There is a tremendous overlap between skin and internal medicine," she explains. "The skin is a window to internal problems of the human body. A dermatologist is trained to look at a person's skin to determine if the rash is due to autoimmune disease, medications, internal organ dysfunction, cancer, genetic disorders. The list of possibilities is extensive. I'm glad I trained in both internal medicine and dermatology. The extra training allows me to have an understanding of the entire body and enables a 'root cause/integrative' approach to medicine versus approaching the skin and the inner workings of the body separately."
Her childhood experiences led to her decision to become a physician and teacher. Dr. Corvette's father worked for IBM and took the family to different parts of the country. Around the age of six, she and her family settled in Rockville, Maryland.
She always had a passion for learning and for teaching. Even at a very young age, she was an entrepreneur. She made potholders and soaps and then sold her goods around the neighborhood. She wrote a play for the neighborhood kids and directed them in the performance.
During her middle school and high school years, she began teaching piano to students of all ages. One of her students was a physician at Walter Reed Army Medical Center, a foreshadowing because twenty years later, she would graduate from Walter Reed Dermatology Residency.
"Innately, I love teaching and being around people. Early on, my calling was music because that was my forte. My mother pushed me to become a musician. My older brother was encouraged to become a physician."
Her home was close to NIH (National Institutes of Health), and her brother was encouraged to attend the medical lectures there. She decided to go, too. "I started taking the courses and realized I could have two strengths: medicine and music."
At the University of Maryland, she began taking science courses. "They came easy to me, so I started tutoring in those subjects."
She majored in zoology, the study of animal biology. "Most of the pre-med students at the University of Maryland studied zoology because that curriculum included the harder sciences like physics and chemistry. I knew I was good in the sciences. I loved people. I liked helping people, and I was a natural for the medical profession."
During medical school, she had to decide in which field of medicine to concentrate. "I met the most incredibly inquisitive, exceptionally intelligent internists. I was hooked. I wanted to know the entire body well." She decided to become an internist. "After I finished medical school, I completed a three year residency and became board-certified in internal medicine in 1991."
For the next three years, she practiced internal medicine and taught at Brooke Army Medical Center in San Antonio, Texas. "I was in the Army."
Dr. Corvette's husband had gone to West Point, and they met in medical school. He (Dr. Alex Lambert) became an orthopedic surgeon. "He's the guy on the other end of the building (their offices are in New Town)," she says, "and that's why we call this building 'Skin & Bones.' When I met him in medical school, I was a financially in-need medical student. Walter Reed was just down the street. I applied and received a scholarship. I was active duty Army for 12 years."
She decided she wanted to do another residency and did a three year residency in dermatology at Fitzsimmons Army Medical Center. She completed her final year of dermatology residency at Walter Reed Army Medical Center in 1997. From 1997 to 2000, she was chief of dermatology at Fort Eustis.
"My husband and I really liked the Williamsburg area. We didn't want to go back to all the congestion around D.C. We decided to stay here."
At Fort Eustis, she became a Major at a young age and ran her own clinic. "That was a great experience. I learned quickly. I loved my retirees and my active duty guys. My husband was working just down the hall as an orthopedic surgeon. I decided that I couldn't stay in the military because I had a child. I couldn't be ready to be deployed at any time with my young son."
She joined another dermatologist's office in Gloucester. After four years, she knew she wanted to set up her own practice.
The main issue she treats is skin cancer. "I see skin cancers all day long. I probably see 30 to 40 skin cancers a day. There are three main types of skin cancers: basal cell carcinoma, squamous cell carcinoma, and melanoma," she lists in order of severity.
"Remember 'B' for best – basal cell. They won't kill you, but will disfigure you if you leave them too long. You may see people without noses and ears and things like that. A melanoma will kill you within a year if you leave it. That's the bad type."
Her main focus is on prevention. She urges people to see a dermatologist for a methodical, meticulous skin check. "Top to toe," she says. "We even look at their scalps. It's really important to have a thorough skin check. My big belief is in prevention."
The human body needs a certain amount of sunshine every day, she states. "Yes, you heard that from a dermatologist. How are you supposed to make vitamin D? Protect your face. Use a physical sunblock that has certain chemicals like titanium dioxide and zinc oxide."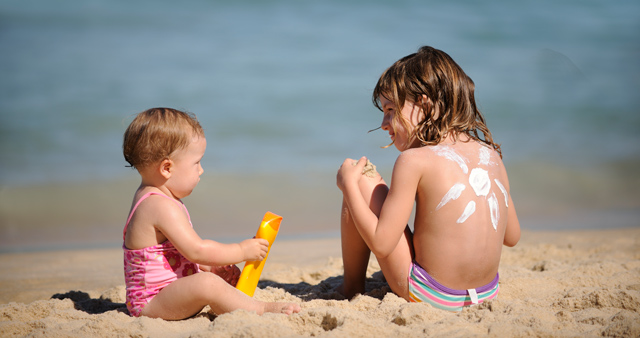 She says to be sun smart but not sun scared. "You don't do things like intentionally try to get a suntan or lie in a tanning bed. A lot of people think tanning beds are safer. They are not. The reality is an 81 year old guy has had over 75 years of sun exposure. Am I going to tell him to not go to the Bahamas? No. Go enjoy yourself. People need to realize that 80 percent of their sun damage is before the age of 18. When you consider that aspect then just don't do stupid things. Don't lie in the sun. Protect yourself. But, there is a national trend of vitamin D deficiency. People need some sun. A sunscreen of SPF 25 is sufficient."
When she plays tennis or walks at lunchtime, she says she wears a hat that covers her ears, and she wears good sunglasses to protect her eyes. "I put the sunblock all over my face. When I sweat, I reapply it. I don't slather myself. I have a live life attitude."
She stresses that the most important aspect of dermatology and skin cancers is early detection. "The biggest mistake I see is that people self-diagnose themselves. If you had chest pains, you would go to the doctor. When you see a spot, melanomas can be the size of a pin head, go see your favorite dermatologist."
When a spot on the skin is changing or not healing or if it's new, the standard of care is to biopsy it.
"The key point is that the biopsy is sent to the right pathologist," she says. "There are two different types of doctors who read slides: general pathologists and dermatopathologists. A dermatopathologist only reads skin biopsies. They are excellent."
After 30 years of medical training and practice, Dr. Corvette says she is more inquisitive than ever. "I'm questioning what I've learned over the past years. I'm a lot more about treating the entire body, not just the skin. This was never taught in my dermatology courses. It came from realizing that Americans are the sickest they've been in 30 years. Why? Everywhere I went in dermatology courses and conferences, this was never discussed."
Her internal medicine background prompted her to look to other medical conferences that focused on the root causes for illnesses. "Dissect down," she says. "How does that person sleep, eat, handle stress? What other diseases does that person have and what drugs are they taking and how do those interact?" It's a holistic way to approach dermatology.
"I've been going to 'functional medicine' conferences for the past several years. Another name is 'integrated medicine' conferences where you look at the entire person, not just the skin. You have to put it all together. It's all connected."
She says dermatology is more than the skin, it's the whole patient. "You are what you eat, sleep, breathe and think. Everything you do affects your body."