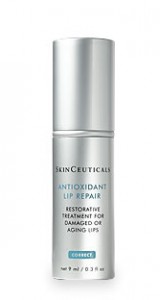 Two powerful antioxidants, vitamin E and silymarin form an exclusive combination antioxidant therapy for the lips in Antioxidant Lip Repair. This powerful treatment helps prevent premature signs of aging, while restoring moisture and smoothing the surface of the lips.
Medical research proves that combination therapy provides better protection from environmental aging, helping to shield the delicate lip area from UV light as well as environmental elements such as smoke and air pollution.
Antioxidant Lip Repair uses special botanical emollients to hydrate and heal dry, cracked lips, while its AHA-free exfoliating complex accelerates cell renewal to smooth deep lip lines for full, healthy lips.